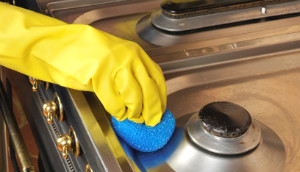 Ovens get covered with grease, food stains and marks after long time used, without being regularly cleaned. Our oven cleaning services will make the inside and outside surfaces of your oven rid of all grease and stains, covering every part of them. Food wastes, fat stains and carbon create unpleasant smell, smoke and make your oven look repelling. They can also make your oven work slower and less effectively. Regular and professional cleaning ensures the proper functioning of your stove and its well maintenance.
We use only eco-friendly and harmless detergent, preparations and solutions to clean your oven. There will be no threat for your health from our cleaning products. Without any difference what brand or model is your oven, our cleaning staff will look after its clean condition without any problems.
Oven Cleaning Services
Prices
Single Oven Cleaning
£50

£45

Double Oven Cleaning
£65

£63
Cooker Cleaning Services London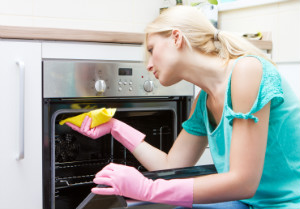 If you choose our oven cleaning services you will receive:
Dip tank method of cleaning your oven
Polishing and cleaning well the main body of the oven
Steam cleaning of the oven for perfect disinfection
Natural and harmless cleaning preparations used in the process
Professional oven cleaning, which will extend your oven's life
Oven cleaning procedures done in a time of your choice
Guaranteed better performance and efficiency of your oven after we clean it
Affordable price of our services
First your oven will be inspected by our technicians to understand which parts are proper for disassembling and cleaning separately. All removable parts of your oven will be disassembled and cleaned one by one. The hob components, grates, trays and fans will be dipped and soaked in a eco-friendly cleaning solution for ovens. It will extract all the grease and build up left from the cooking. If your oven door can be disassembled, our staff will remove the glass panels to clean them well from all splatters, grease and dirt. Our oven cleaning technicians will scour and polish the main body of your oven till it becomes sparkling clean.
Areas where we offer oven cleaning services
The steam cleaning we apply will make your oven wonderfully disinfected, without the use of harsh chemicals. The mild detergent, dissolved in hot water will extract all the grime, fat and food stains well. Your oven will be working better and faster after our cleaning technicians look after it. All our cleaning procedures are successful and professional, leaving flawlessly clean ovens. Choose our oven cleaning services, which are available on very competitive price and the results will impress you.